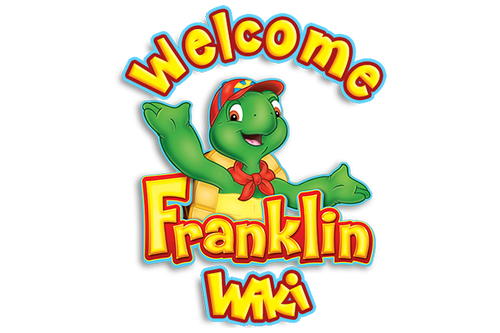 Welcome to the official "Franklin" Wikia!
Welcome to the official "Franklin Wiki". You will find all things from the original 2D and updated 3D animated series that airs now since 2011. To the characters, episode plots, pictures, video's and so much more! Please be aware that the wikia is still under construction and is been expanded by wiki users at the moment so please alert us if you have any questions on how the "Franklin Wiki" works, and we will be happy to answer your questions.
Brief Summary on 2000 Series
Franklin is an American/Canadian animated series that appeared on Nick Jr. from January 11, 1999, until December 27, 2002. It currently airs on Treehouse TV and is based on the children's book series. In the United States, the program airs on Noggin/Nick Jr. and Knowledge. "Franklin and Friends" was a new series introduced as a 3D animated TV show in 2011.
More Information on 2011 Series
"Franklin and Friends," based on the children's book series featuring Franklin, is a computer-animated series geared toward preschoolers that aims to teach the kids lessons. The series follows Franklin the turtle, now older than in the books and previous TV series, as he experiences adventures and achieves milestones in the community of Woodland, learning lessons along the way. Franklin's friends referenced in the title include best friend Bear, problem-solving Snail, practical joker Rabbit, natural leader Beaver, inventive Fox and empathetic Goose, along with Harriet, Franklin's little sister. The series tackles issues that include personal empowerment, socialization, self-esteem, appreciation of nature and school issues.
More About Franklin TV Series
"Franklin" and "Franklin and Friends" is based on the children's box series featuring Franklin himself, and his friends; Bear, Beaver, Snail, Rabbit, Fox and Goose, and even his little sister, Harriet. They tackle issues that may involve personal empowerment, socializing, appreciation, kindness and the school issues of friendship and also school in general.
Genre:
Animation and Children's Television Series
Starring Voices:
Noah Reid, Cole Caplan, Cameron Ansell, Bryn McAuley, Marc McMulkin, Justin Evanston-Burton, Taylor McMillan, Haley Charles, Kyle Fairlie, Stuart Landrell, Kristen Bone, Annick Obonsawin, James Rankin, Elizabeth Brown, Richard Newman, Janet Laine-Green and Toni Collette.
---